Portable Vacuum Degassing System
Now available from MV Products, a new, totally self contained portable degassing system for a variety of laboratory, research and production applications such as storage, encapsulating, potting, or freeze drying.
The MV Portable Degassing System features a 15 gallon stainless steel chamber with two perforated shelves that accommodate large containers or batches of smaller ones. Totally self contained on a compact mobile cart with locking casters, the system includes a vacuum pump, an inlet trap to protect the vacuum pump, an oil mist eliminator for pump exhaust, and 1½" clear Lucite hinged cover for full contents viewing.
Fully equipped with a Formica table top, a pump isolation valve, vent valve, illuminated power switch, and a large 3¼" dial Bourdon vacuum gauge, the MV Products Portable Degassing System measures 24″ W x 32″ L x 36½" H. An optional rotary motion feed-through accessory is available that allows for stirring as well as contents manipulation.
The unit is equipped with a 10 CFM industrial heavy duty rotary vane vacuum pump designed to enable product degassing in a matter of minutes on most viscous materials including resins, epoxies, and urethanes. Other pumps are available on request. Tanks can be customized to meet your specific requirements.
Degassing — Encapsulating
Potting — Drying
Storing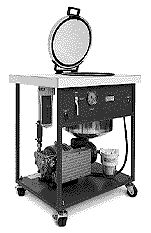 Specifiations
Installation Drawing
Specifiations
Model 220115 Degassing Chamber complete with:
Direct Drive, Single Stage Rotary Vane Vacuum Pump, capacity 10cfm, Ultimate Vacuum 10 mbar
VisiTrap Vacuum Inlet Trap
VisiMist Oil Mist Eliminator
Bourdon Dial Gauge 0 to 30″ Hg
Isolation Valve
Vent Valve
On/Off Power Switch
304 Stainless Steel Vacuum Chamber
Installation Drawing