Single Stage Vacuum Inlet Trap
Positive Flow

No "blow-by"

Variety of elements

Positive trapping

Easy changing and cleaning
The flow of the effluent gas is directed through the inlet port to the filter elements. Unlike other traps, the filter elements of the POSI-TRAP® are sealed at both the inlet and the exhaust ends, eliminating blow-by and maintaining a positive flow through the elements. This means all contaminants must pass through the filter medium.
Choose from stainless steel gauze, copper gauze, molecular sieve, Soda Lime, activated charcoal, and PolyPro (2, 5, and 20 microns). One (4″ Posi-Trap) or four (8″ Posi-Trap) filter elements are required per trap.
Other filter media is available. We can also customize filters for your specific application. For more information on filter media and applications, click here.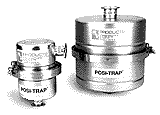 Specifiations
Installation Drawing
ORDERING INFORMATION
FILTER MEDIA
Specifiations
Construction
Stainless steel
Seals
Buna N O-rings
Dimensions
Refer to Installation Drawings
MV Products offers several interchangeable inserts:
Type
Description
Copper gauze
Large surface area traps condensable particles and oil vapors
Stainless steel gauze
Same as copper gauze, but with added corrosion protection
Molecular sieve
Reduces mechanical pump backstreaming and traps water vapor
Soda Lime
Minimizes migration of corrosive chemicals and neutralizes acidic vapors
Activated charcoal
Removes organic vapors
PolyPro 2μm
Traps high volumes of solids and particulates as small as 2 microns; available in 3 sizes
PolyPro 5μm
Same as above
PolyPro 20μm
Same as above
Installation Drawing
ORDERING INFORMATION
FILTER MEDIA